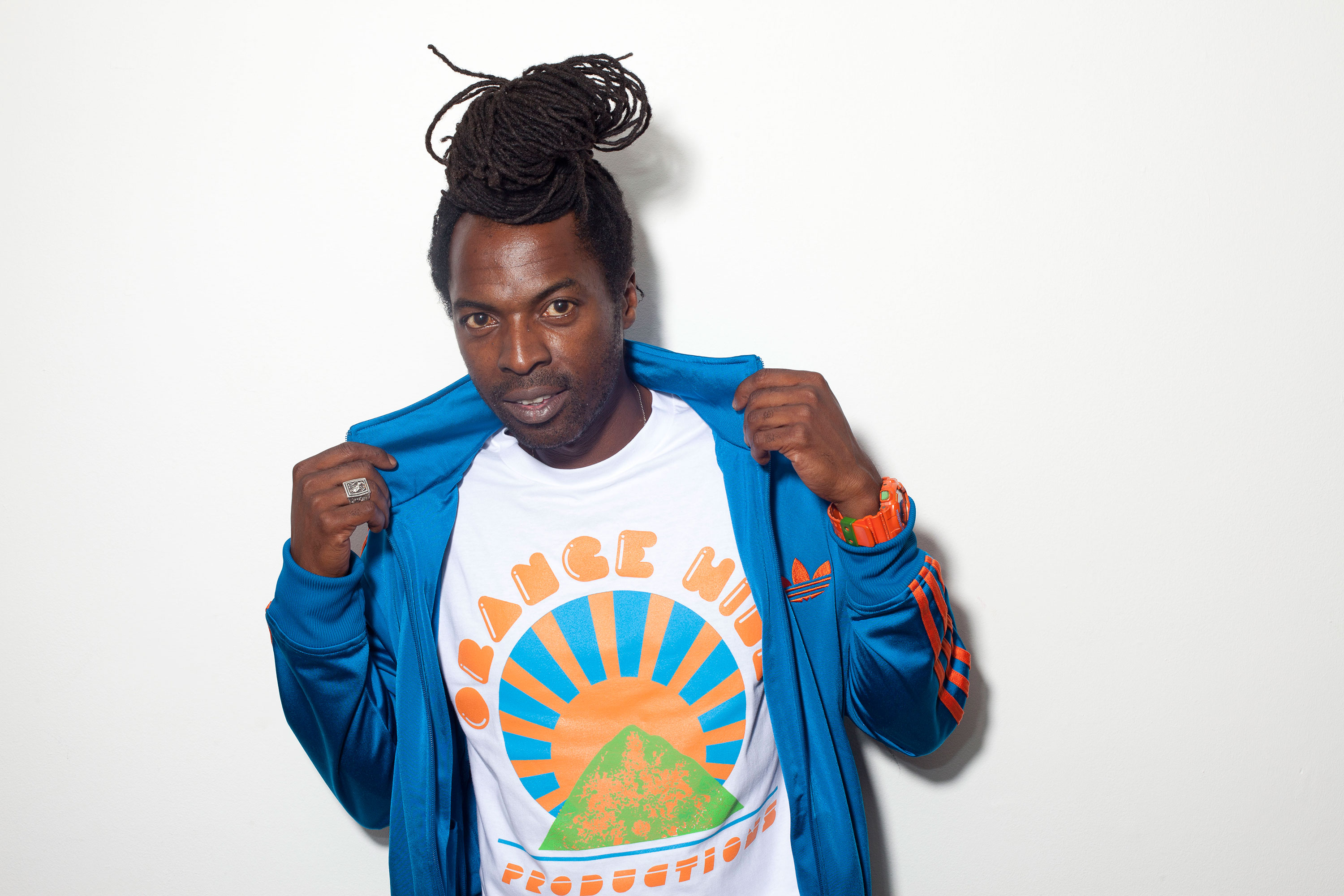 Ras Kwame is a British musician, record producer, radio DJ and presenter. He started in the music industry as a club DJ playing hip hop, R&B and reggae in the early 1990s. He then moved on to promoting for Kiss100's groundbreaking Starlight Club night and the Mean Fiddler's Subterranea Club, bringing over talent from the US and promoting local talent.
The Subterranea gigs saw Kwame take control of the turntables for artists such as Gang Starr, Public Enemy, Wu Tang Clan, London Posse and the Fugees. During that time, Ras also undertook remix work for Chanté Moore, George McCrae and The 49ers.
Kwame founded West London's Sugar Shack record shop in 1993 and from 1994–2000 he had formed Baby Shack Recordings and his UK garage production outfit M-Dubs. As a garage producer, Kwame made several innovative underground club anthems for the flourishing UKG scene, such as "Over Here" featuring Ritchie Dan, "Bump and Grind" featuring Lady Saw and the underground smash "Body Killin" by The Vincent Alvis Project.
In 2001, Kwame launched the International Rude Bwoy Recordings operation; the label maintains a UK black music output with a variety of styles ranging from hip hop to garage.
Ras Kwame joined BBC Radio 1Xtra at launch in 2002 with the 100% Homegrown show every Sunday evening. The show was dedicated to the sound of UK black music and provided a live platform for talent and gave major support to new acts like Lethal B, Estelle, Skepta and Emilie Sande.
In 2004 & 2005 , Kwame won Best Radio DJ at the Urban Music Awards and started a new music show called Showtime with Ras Kwame on Channel U now Channel AKA. He also hosted urban music tv shows for MTV and Flava TV, going on to host the legendary and pioneering UK rap show Spit TV in the mid noughties.
In February 2005, Kwame was brought into BBC Radio 1 to host one of the three OneMusic shows that succeeded the John Peel slot, delivering a show on Wednesday nights between 11pm and 1am. The other OneMusic hosts were Rob da Bank and Huw Stephens.
Ras remained with BBC Radio1 & 1Xtra till 2012 when he joined Global Radio broadcasting on Choice FM and Capital Xtra Radio.
Ras presented his Midnight Mix show on Capital Xtra Mondays to Fridays midnight–3am from 2012 – Aug 2016.
Ras currently presents his new show 'The Reggae Recipe' on Sunday nights on Capital Xtra featuring the freshest dancehall and reggae with guest mixes and interviews. This is in line with a return to a strong focus on his music productions, setting up his Orange Hill Productions in 2013, focusing on dancehall and reggae infused sounds. Collaborations over the last 2 years have seen him work with the likes of Busy Signal, Kano, Vybz Kartel, Fatman Scoop, RDX, Sneakbo, Stylo G, Cecile, Mr Lexx and many more releases – https://soundcloud.com/orangehillmusic
Ras is currently working on a collaborative album with US based producer KickRaux where the pair experiment with dancehall & reggae meets hip hop and afrobeat infused sounds, combining influences in electronic music with that of their Jamaican and Ghanaian heritage.
The debut single from their forthcoming album 'Forward' is out now and on heavy rotation globally as it brings together talent from 4 continents in the shape of Tyga, Doctor, Ayo Jay and Demarco,called 'Feelin U' – https://youtu.be/pIGLfMwsqjQ
Ras Kwame has appearances at Festivals as diverse as Glastonbury, Outlook Fest, BoomTown Fest, SXSW and more, Artist gigs such as Sean Paul Live (London Electric BallRoom Summer 2016), whilst continuing to do club nights globally (London and UK Wide, Ibiza, Majorca, Mediterranean Islands, Africa playing an exclusive mix of reggae, dancehall afrobeats ,hiphop and grime, with plenty of self produced set content.